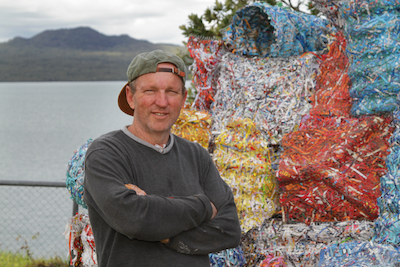 Jeff Thomson, born Castor Bay, Auckland, New Zealand, in 1957, attended Elam School of Fine Arts, University of Auckland, graduating with a Bachelor of Fine Arts in 1981. In 1980 he was based in Dunedin and spent the year travelling and walking around the South Island. He was Frances Hodgkins Fellow at the University of Otago in 1995. Jeff and his wife, Shona Cameron, live in a huge corrugated iron shed in Helensville, North Auckland, that is home, workshop and an ever-increasing library of corrugated iron. He has yet to run out of ideas for exploring the material's potential.
Jeff works mainly in old corrugated iron and new corrugated steel. His works are displayed in major private and public gallery collections in New Zealand and Australia, and he works on commissions in both countries.
Recently he was commissioned by the Auckland City Council to design, build and install over 500 metres of cutout plywood shapes (inspired by tyre patterns), for the Noise walls along the new 16/18 highway systems in north west Auckland. Over the last two-to-three years Jeff has completed three public art works and is currently in the design stage for another, the Whangaparaoa Public Library near Orewa. Those already in place are the steel text panels outside the Birkenhead public library, the three screen printed and curved steel panels in the Milford Village plaza and, of course, the acclaimed Helensville toilets.
His corrugated iron Holden car, (1991-1992), once parked outside Bowen Galleries on The Terrace, Wellington, has been exhibited in New Zealand and Australia. Its motor was 'donated' by a motorcycle gang. The Holden is now in the collection of Te Papa Tongarewa Museum of New Zealand.
His start-up of a Whanganui company that used screen-printed iron for everyday roofing and guttering applications, during his residency at Tylee Cottage in 2000, was a brief but enjoyable career turn, combining practicality with art. 'It was great to solve problems in the environment rather than shoving stuff into bloody galleries. It's good to work in real time in the real world.'
www.jeffthomson.co.nz
Exhibitions
About time, 2021
Frame, 2018
Natural history, 2016
Wrapped, 2015
Squash/Mold/Heavy Metal/ Press, 2014
Chooks, 2014
Hanging together, 2012
Works, 2011
New work, 2008