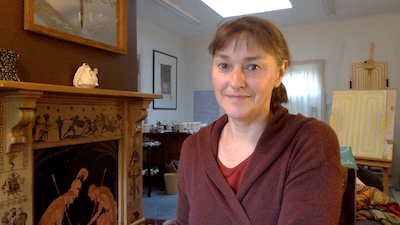 Born in Christchurch 1962, Marian Maguire graduated from the University of Canterbury in 1984 and in 1986 studied at the Tamarind Institute of Lithography, Albuquerque, USA. She was Artist in Residence at the Otago Polytechnic School of Art in 1991 and at Tylee Cottage, Whanganui in 2010. She has exhibited extensively in solo and group shows in New Zealand and also in Australia, United Kingdom, Belgium and Germany. Two series of her work have been shown in long-running collection displays at the National Maritime Museum, Greenwich, UK and recently she was one of only three living artists to be included in 'Troy: myth and reality', a major exhibition at the British Museum.
Marian is well-known for her lithographs and etchings which combine New Zealand history with classical Greek vase painting: 'The Odyssey of Captain Cook' (2005), 'The Labours of Herakles' (2008), 'Titokowaru's Dilemma' (2011). These series and accompanying catalogues explore colonial themes and touch on difficult cultural questions. All three series toured widely in New Zealand and 'The Labours of Herakles' also toured in the UK and Europe.
Alongside her narrative works she has consistently made abstract paintings, prints and drawings. These often play with geometric patterning. Her painting series 'Boogie Woogie with Gordon Walters' and 'Meander' are recent examples.
She is represented in public collections including: Te Papa Taongawera, Museum of New Zealand; Auckland Art Gallery, Toi o Tāmaki; Christchurch Art Gallery, Te Puna o Waiwhetū; The Waikato Museum, Te Whare Taonga o Waikato; University of Canterbury; Massey University; The Hocken Collection, University of Otago; Ministry of Foreign Affairs and Trade; National Gallery of Australia; Central Queensland University, Australia; Cambridge University, UK; The Birthplace of Captain Cook Museum, Middlesborough, UK; National Maritime Museum, Greenwich, UK; the British Museum.
www.marianmaguire.com