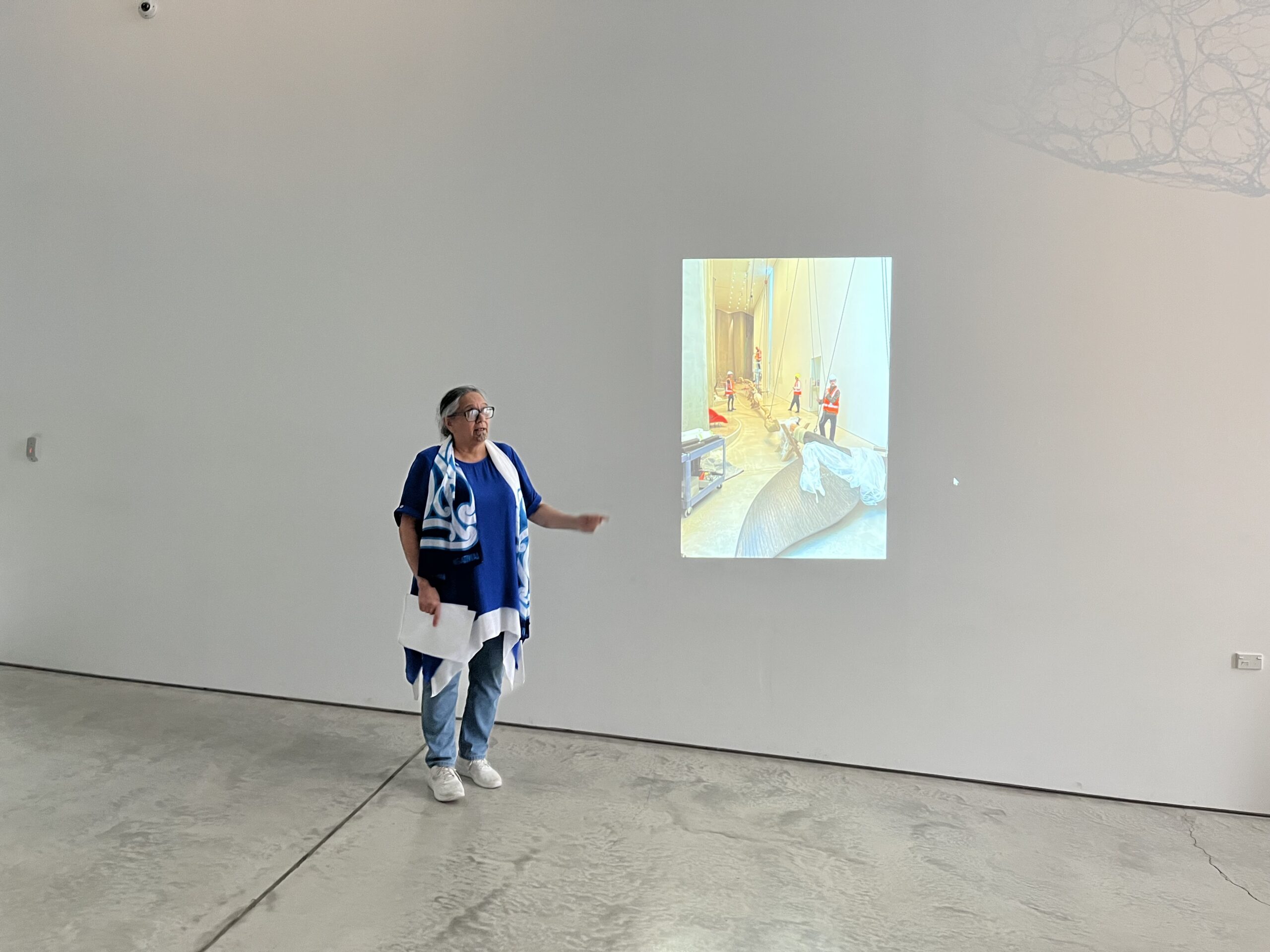 Shona Rapira-Davies (Ngāti Wai, 1951) is a leading Māori sculptor and senior New Zealand artist.
She graduated with a Diploma of Fine Art from Otago Polytechnic in 1983. In 1989 she was awarded the Frances Hodgkins Fellowship as well as a residency at Banff Centre of Arts, Canada.
Rapira-Davies is interested in the empowerment of Māori women iusing her art work to make statements about perceived injustices. She cites Ralph Hotere and Colin McCahon as artistic influences, alongside her upbringing and relationship with the sea, land and waterways of Aotea, Great Barrier Island. Her art practice is innovative and wide ranging and includes large scale installation and sculpture, outdoor public sculpture like Te Waimapihi which reclaimed Te Aro Park for Te Atiawa in central Wellington, large scale ceramic works such as Nga Morehu held in the collection of Te Papa Tongarewa and a textile and drawing practice.  
Shona first exhibited Nga Morehu (The Survivors) at the Wellington City Art Gallery in 1988. The work was subsequently purchased in 1992 by the National Art Gallery (now Te Papa Tongarewa Museum of New Zealand, Wellington). Nga Morehu has been exhibited in a number of landmark exhibitions in Aotearoa including Headlands: Thinking through New Zealand Art at the Museum of Contemporary Art, Sydney, Australia, in collaboration with the National Art Gallery, New Zealand, 1992; Oceania: Imagining the Pacific, City Gallery Wellington , 2012 and most recently Toi te Toi Ora, Auckland Art Gallery Toi o Tāmaki, 2021.
Other key exhibitions include, her 2003 collaboration Native Bird Productions at the The Dowse Art Gallery, Lower Hutt with fellow leading Māori artist Diane Prince. Most recently Shona has exhibited large scale installations Ko Te Kihikihi, The Govett-Brewster Art Gallery, 2021 and Ko Te Kihikihi Taku Ingoa which is currently being exhibited at The Govett-Brewster Art Gallery.
Shona's work is represented in the following public collections: Auckland Art Gallery Toi o Tāmaki, The Chartwell Collection, Christchurch Art Gallery Te Puna o Waiwhetū, Dunedin Public Art Gallery,  The Fletcher Trust Collection, Hocken Collections, University of Otago, New Zealand Maritime Museum, Sarjeant Art Gallery, Te Papa Tongarewa, Victoria University Art Collection.
Solo Exhibitions
Critical Mass, 2023 with Diane Prince
A nod to nature, 2020
There are no bees in my garden, 2020
The sound of one hand clapping (the artist acknowledges the classic Zen kōan), 2018
Brand new day, Georgy, 2015
Nana he horihori Katoa, 2013
Paradise, 2013
All my children have different fathers, 2006
Native bird productions 3, 2005