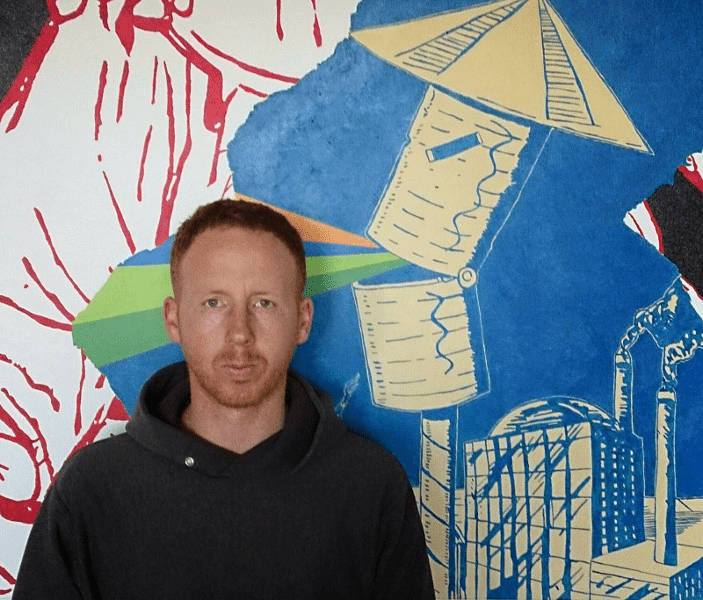 Aaron Waghorn, born 1978, Palmerston North, currently lives and works in Wellington. He attended Quay School of Arts and Design, Whanganui 1998 – 2001, gaining a BFA majoring in painting. Travelled to New York Sept 2010 specifically to look at galleries. The many highlights included seeing Picasso's 'Les demoiselles d'Avignon' and works by Basquiat. Aaron saw Richard Prince's re-photographed 'Marlboro Cowboy' series at Gagosian Gallery and met Rob Pruitt at Gavin Brown's Enterprise. In 2018, Aaron travelled to London and Paris specifically to look at the Basquiat exhibition at Fondation Louis Vuitton Paris, and bonus shows by Joe Bradley and Georg Baselitz in London.
"I draw inspiration from books, movies, internet, and magazines. When working with the diptychs I play around with the negative and positive spaces within the painting, usually offsetting one against the other. The colour circles and rays that feature throughout my work are called abstract interruptions. More recently my works have evolved and become a little looser and painterly while still combining different aspects of my abstract exploration. As a side series I have started to explore aspects of geometric abstraction".
Aaron was a finalist in the Wallace Art Awards, 2016, Molly Morpeth Canaday Art Award, 2017, and the Parkin Prize in 2016.