Collaborations: Euan Macleod and Gregory O'Brien
With Euan Macleod based in Sydney and Gregory O'Brien in Wellington, the collaborative paintings the two artists have created over the past decade are a continuation of a trans-Tasman conversation which began in 2009 when O'Brien was writing a monograph on Macleod's art. Upon the publication of Euan Macleod—the painter in the painting (Piper Press, 2010) the exchange of ideas between the two migrated to what would soon become an ongoing series of collaborative works on canvas and paper.
At times painting in the same room, at other times in different countries, Macleod and O'Brien relish their divergent approaches to art-making. As O'Brien writes, the collaborations set 'a painterly manner (Euan's) alongside my graphic approach, which is probably closer to drawing than painting. Whereas Euan conjures movement, my image-making is static; his work is visceral, mine cerebral. Such contradictions fuel our ongoing project, forcing both of us to step outside our comfort zone.'
Between 2011 and 2022, the two artists travelled to locations ranging from Waiheke Island and the Bay of Plenty to Alexandra and Gore. The resulting images are meditations on provincial, often far-flung places. Yet these gleanings of 'local knowledge' also look outwards to broader concerns. As the Irish writer Patrick Kavanagh put it, local realities such as the small town or parish should not be thought of as 'a perimeter' but as 'an aperture: a space through which the world can be seen'. From the vantage point of these paintings, we are constantly aware of processes of climate change, environmental degradation and the often vexed relationship between humanity and its environment.
THE TWO ARTISTS
Euan Macleod was born in Christchurch in 1956 but has lived in Sydney
since 1981. He has held more than fifty solo shows in New Zealand and
Australia and has taken part in numerous group exhibitions in Australasia
and internationally. In 2010 Piper Press, Sydney published a monograph,
Euan Macleod: The Painter in the Painting, written by Gregory O'Brien.
A related touring exhibition, 'Euan Macleod – Painter', curated by
O'Brien, travelled to many New Zealand regional galleries (2014-2017)
including the Millennium Public Art Gallery.
Poet, painter, art writer and curator, Gregory O'Brien was born in
Matamata in 1961. His art has been exhibited widely and his books of
poetry and non-fiction published in New Zealand, Australia and Great
Britain. His monograph, Don Binney—Flight Path, will be published in Spring 2023 by Auckland University Press.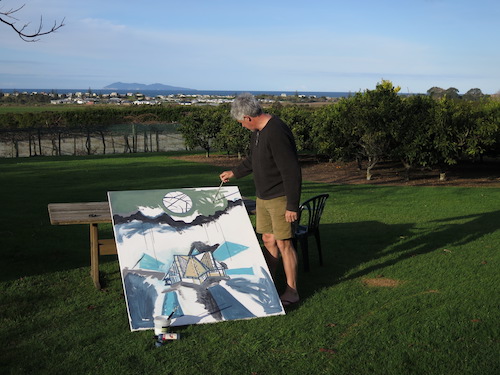 COLLABORATIVE EXHIBITION HISTORY
Alongside exhibiting their collaborative works on a number of occasions at Bowen Galleries, their works have been featured in the following exhibitions:
'Collaborations—Euan Macleod and Gregory O'Brien', Watter's Gallery, Sydney, September-October 2018
'Local Knowledge—collaborative paintings by Euan Macleod and Gregory O'Brien
Millenium Gallery, Blenheim, November-December 2020
Eastern Southland Art Gallery, Gore, October-December 2021
He Waka Tuia, Invercargill, February-March 2022
Ashburton Art Gallery, Ashburton, October – December 2022
Collaborative paintings were also featured in the touring exhibition 'Wai/Water—the Water Project' which toured to the following galleries, 2018-2021: Ashburton Art Gallery, Canterbury Museum, Suter Art Gallery, Pataka Art + Museum, Sarjeant Art Gallery and Hastings Art Gallery
Collaborative paintings are held in the collections of Eastern Southland Art Gallery, Gore; The Forrester Gallery, Oamaru; Millenium Gallery, Blenheim; Ashburton Art Gallery and the Wallace Arts Trust.